Fertile Moon Tea: Herbal Blend to Support Ovulation and Hormone Balance
$25.95
$20.00
You save:

$5.95 USD

(22.93%)
Fertile Moon Tea: Herbal Blend to Support Ovulation and Hormone Balance
$25.95
$20.00
You save:

$5.95 USD

(22.93%)
Product Description
Info

Ingredients

Shipping + ❤️
Description
Fertile Moon Tea is some delicious and effective goodness. We are often asked why you'd choose Fertile Moon over Fertile Mama… in general, it's more qi invigorating and supportive of Liver energy, which is often especially needed around ovulation. So all women can drink Fertile Moon Tea in the 4-5 days around ovulation.
BUT… if you're a woman who tends to have "dampness" which might manifest in symptoms like cysts (PCOS), excess weight and elevated blood sugar, you can actually drink Fertile Moon for the entire month to support your liver processing through all that dampness. 
It's especially supportive for women who have been struggling with ovulation, either due to PCOS or other causes. Rich in calcium and magnesium, it supports ovulation, strengthens the uterus, balances hormones, soothes and cleanses the liver, promotes circulations and tonifies the blood.
4 oz. Loose Leaf contains approximately 25 servings
To explore different ways to use Fertile Moon Tea in conjunction with our other teas, check out our bundles such as PCOS and Ovulation Support Bundles and our 3 months supply of teas. 
HOW TO PREPARE YOUR TEA

Add 1 Tbsp. herbal blend to a tea infuser or French press.
Pour boiling water over the herbs and infuse for 5-15 minutes. Herbs may steep longer than 15 minutes for a stronger infusion.
Remove infuser or strain herbs and enjoy your tea warm, at least 2 cups per day.
You may add a bit of honey or sweetener as desired.
Not intended for pregnant women.
Ingredients
Organic Ingredients:
Dandelion Leaf, Lemon Balm, Raspberry Leaf, Milk Thistle, Mugwort, Lady's Mantle, Peppermint, Skullcap, Red Clover Flower, Nettle, Passion Flower, Honey, Chaste Tree Berries, Dang Gui, Black Cohosh
Shipping + ❤️
✨ When will my order ship?
Once an order is placed we typically ship within 1 business day. The delivery time is typically 2-3 business days, but can be longer depending on location and circumstances.

❤️ Truth, Love, Trust & Support 'Baby Dust' Promise...
"This is my life's work and I promise to always love, honor and support you on your journey towards having a beautiful healthy baby."

-Ariele Myers 🌕
Licensed Acupuncturist, Board Certified Herbalist, and Fertility Specialist.
Customer Reviews
Write a Review
Ask a Question
06/24/2022
Octaviana

United States
06/02/2022
Jensine D.

United States
Cleansing Guaranteed
Very good. I havent been consisitent but the stuff does work
05/24/2022
Shonda

United States
This stuff really does work!
Just got my BFP yesterday confirmed with a blood test today. Only drank fertile mama and fertile moon during ovulation one cycle. Omg im excited this stuff really does work! My husband drank the morning rooster.
04/25/2022
Kayleigh

United States
Beautiful Boy!
One month only I'd been trying to conceive my second child for 8 years Something my own OBGYN couldn't even figure out. Unexplained infertility. I am probably being induced within the next few weeks so I will send you pics of my beautiful boy once he is born. I am still so grateful to you and your products. It literally overwhelms me with happiness and tears of joy when I think about what you do and makes me so glad I took the leap to try your product. After years of doctors telling me they didn't know what was wrong and struggling with PCOS, you gave me the opportunity to be a mother again after 10 years.
04/18/2022
Jocelyn

United States
it was ABSOLUTELY worth it!
I ordered this on afterpay back in December. I got the fertile moon, fertile mama, and the soak. My husband and I decided to not try through the month of January, to let the tea build up in my system, but we found out we were pregnant January 26th!! After over 6 months of trying, I am a firm believer in this tea! Our daughter will be here at the end of September!! If you're on the fence about trying, like I was, it was ABSOLUTELY worth it! I still have 1 unopened bag of the tea just because I didn't even need to use it!!
03/10/2022
Farrah

United States
03/06/2022
Suzette B.

United States
WOW Teas
I love all the teas I've tried from WOW. They taste great and are effective :) I usually drink mine with a very small dallop of honey, but I've enjoyed the teas without honey as well.
03/06/2022
Jasmine

United States
It worked for me!!! It's been almost 8 years of us having no luck
Hi Ladies: I'm 37yo… My partner and I have been TTC since MC in 2015 with absolutely no luck!!! This was my 1st cycle using Wisdom of the Womb fertility teas paired with Mira to track my ovulation …I read so many great reviews so I gave the teas a try and it worked for me!!! It's been almost 8 years of us having no luck…I thought it would never happen for us…but I wasn't going to give up!! From me tracking my hormones using the ovulation tracker…I know the teas helped my hormones tremendously!!! I used the Detox Tea, Fertile Mama, then Fertile Moon and followed the cycle!!!! Yesterday at 18dpo I finally decided to test and got my BFP!! I literally held off on taking a pregnancy test until 3 days passed my missed period because I didn't want to be disappointed yet again. I'm so happy, yet anxious because my last pregnancy in 2015 ended with MC. For so many years I was being to by doctor It was because of my age…that was the only explanation I would get and that wasn't good enough so I started with a fertility specialist last month and all of my testing came back good…next month we were scheduled to start IUI cycle…I told my partner I just wanted to try naturally this month one more time before IUI or possibly IVF, so we did!!! Now I'm praying for my health baby to make it here safe and sound!!! Ladies...stay hopeful and don't give up!!!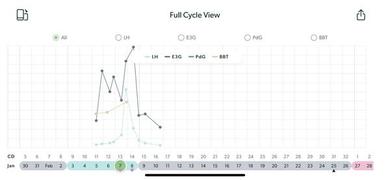 02/27/2022
Morgan

United States
Thank you, I'm amazed and shocked.
Good Morning! I've been drinking your Fertile Moon and Fertile Mama teas... my period isn't slated to start for another six days. I drank your teas for a month and I took the early detection today and I'm pregnant....Thank you, I'm amazed and shocked. Of course, I will keep you posted!
02/22/2022
Kayleigh

United States
So Thankful
I'm so thankful for your products and the baby boy it has gifted me with. I am so excited to start my journey again as a mother and continue to use your products and share with women I know who also struggle with fertility issues. ❤️ thanks for the feature