Fertile Moon Tea: Herbal Blend to Support Ovulation and Hormone Balance
Fertile Moon Tea: Herbal Blend to Support Ovulation and Hormone Balance
Product Description
Info

Shipping & ❤️.

Ingredients
Description
Fertile Moon is a highly effective blend that supports the female reproductive system, especially for those looking to increase fertility and become pregnant. It's especially supportive for women who have been struggling with ovulation, either due to PCOS or other causes. Rich in calcium and magnesium, it supports ovulation, strengthens the uterus, balances hormones, soothes and cleanses the liver, promotes circulations and tonifies the blood. 
4 oz. Loose Leaf contains approximately 25 servings
HOW TO PREPARE YOUR TEA

Add 1 Tbsp. herbal blend to a tea infuser or French press.
Pour boiling water over the herbs and infuse for 5-15 minutes. Herbs may steep longer than 15 minutes for a stronger infusion.
Remove infuser or strain herbs and enjoy your tea warm, at least 2 cups per day.
You may add a bit of honey or sweetener as desired.
Not intended for pregnant women.
View Testimonials and Reviews from other Wisdom of the Womb Customers here.

Shipping & ❤️.
✨ When will my order ship?
Once an order is placed we typically ship within 1 business day. The delivery time is typically 2-3 business days, but can be longer depending on location and circumstances.

❤️ Truth, Love, Trust & Support 'Baby Dust' Promise...
"This is my life's work and I promise to always love, honor and support you on your journey towards having a beautiful healthy baby."

-Ariele Myers 🌕
Licensed Acupuncturist, Board Certified Herbalist, and Fertility Specialist.
Ingredients
Organic Ingredients:
Dandelion Leaf, Lemon Balm, Raspberry Leaf, Milk Thistle, Mugwort, Lady's Mantle, Peppermint, Skullcap, Red Clover Flower, Nettle, Passion Flower, Honey, Chaste Tree Berries, Dang Gui, Black Cohosh
Customer Reviews
01/07/2022
Amanda A.

United States
Love it
It helped me ovulate at a better time and made my cycle go back to 29 days instead of 40 something!
01/05/2022
Sucheta

United States
I tested positive yesterday!
Hi Ariele and team, I tested positive yesterday with home pregnancy tests. I am getting a blood test done to check my hcg levels. I had used the detox tea for few days (4-5 days) and then I did the tea cycling for a month. Got tested positive in 1 month of using the teas, bath soaks, womb massage and moxa. Could you please guide me on the products that you recommend using including teas, bath soaks etc to maintain a strong and healthy pregnancy. Thank you for your help. Please let me know as soon as possible so that I can order the products in time. Thank you for your help and support, So grateful for your team and products.
01/03/2022
Ravneet

United States
OMG! I just found out I am pregnant!!!
OMG! I just found out I am pregnant!!! I've used your teas for a month only. We have been trying for year and half with one miscarriage last year. I just ordered Blissful Mama tea. I hope this baby sticks, I am so excited and nervous!!!! Praying so much!!!!! Thank you so much for your products!!!!! You are amazing at what you do!!!! <3
12/17/2021
Ruska

United States
Because Of you with going to have my baby.
Hi love l don't know how I going to say thank you with all my heart ❤️ firts l have 3 years struggling the journey to be pregnant 3 ivf fail , two miscarriages . Then my fertility doctor tell me that my ovaries reserve was too slow n my quality n quantity of the eggs is was so bad. September I just ordered your miracle tea fertility mama and fertility moon. End guess what with are pregnant thanks to you my love. Tuesday with went back to my doctor he do a sonogram n then he ask me what happen n l look at him say you tell me what happen. I went back today n everything is good my hcg level is high enough for 5 weeks. Thank you so much God's bless you always love . Because Of you with going to have my baby.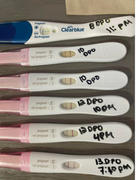 11/11/2021
Selina

United States