Blissful Mama Tea: Herbal Blend for Peace, Calm and Sleep During Pregnancy
$30.00
$25.00
You save:

$5.00 USD

(16.67%)
Blissful Mama Tea: Herbal Blend for Peace, Calm and Sleep During Pregnancy
$30.00
$25.00
You save:

$5.00 USD

(16.67%)
Product Description
Info

Shipping & ❤️.

Ingredients
Description
Blissful Mama is a calcium-rich blend that supports a healthy pregnancy, tones the uterus, and can ease the stress, anxiety and sleeplessness associated with pregnancy.  Blissful Mama promotes healthy digestion to reduce pregnancy-related heartburn, constipation and nausea. Remember, when you feel peaceful, your baby feels peaceful … and a peaceful baby is a good thing! 
Drink 1-4 cups daily.
5 oz. Loose Leaf contains approximately 50 servings
HOW TO PREPARE YOUR TEA

Add 1 Tbsp. herbal blend to a tea infuser or French press.
Pour boiling water over the herbs and infuse for 5-15 minutes. Herbs may steep longer than 15 minutes for a stronger infusion.
Remove infuser or strain herbs and enjoy your tea warm, at least 2 cups per day.
You may add a bit of honey or sweetener as desired.
Shipping & ❤️.
✨ When will my order ship?
Once an order is placed we typically ship within 1 business day. The delivery time is typically 2-3 business days, but can be longer depending on location and circumstances.

❤️ Truth, Love, Trust & Support 'Baby Dust' Promise...
"This is my life's work and I promise to always love, honor and support you on your journey towards having a beautiful healthy baby."

-Ariele Myers 🌕
Licensed Acupuncturist, Board Certified Herbalist, and Fertility Specialist.
Ingredients
Organic Ingredients: Raspberry Leaf, Nettle Leaf, Chamomile, Lemon Balm, Dandelion, Orange Peel, Yellow Dock, Wild Yam, Ginger
Customer Reviews
Write a Review
Ask a Question
02/27/2022
Katy L.

United States
Love the Blissful Mama tea!
This tea is wonderful for support during pregnancy, and it tastes delicious.
02/19/2022
Latisha C.

United States
I'm pregnant
I'm 43 yes old I been having a hard time conceiving I had a miscarriage back August in 2021 I took the fertile mama tea in my 2 week wait and husband took morning rooster tea and in our surprise I took a test and it was positive were so happy and that God has an beautiful angel like Ariel I been telling all the woman I know and come across about your teas thanks again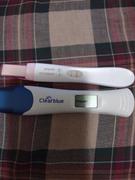 12/04/2021
Katy K.

United States
Love it!
All the teas are wonderful but I've really been loving how supportive tje Blissful Mama tea has been during my pregnancy! It tastes delicious and I know it has lots of good stuff in it to nourish my growing baby.
Thanks
Been meaning to thank you for the Mamma Tea and Blissful Mama! I had my peanut November 21st just two weeks early but she is extremely healthy & a blessing to us. Thank you so much.