Fertile Wellness Bundle
$150.00
$140.00
You save:

$10.00 USD

(6.67%)
Fertile Wellness Bundle
$150.00
$140.00
You save:

$10.00 USD

(6.67%)
Product Description
Info

Shipping & ❤️.

Ingredients
Description
This bundle will provide you with everything you need to begin gently improving your reproductive health.
You'll drink 2 cups Detox Tea per day until the bag is finished.
Fertile Mama Tea, 2 cups per day, beginning cycle day 1 until ovulation, or cycle Day 14. Then switch to B*tch's Brew Tea, two cups per day, post-ovulation until positive pregnancy test, or until next cycle day 3. Then switch back to Fertile Mama.
 The Fertile Mama soak is best used at least once weekly. It is ideal to sit in the hot bath with the herbs and oils for as long as possible, using the Womb Healing Massage Oil to massage your womb while you're in there.
 Ear Seeds come with a chart so you know exactly where the seeds should be placed. Have your partner do this for you (and he can use them too!). 
The Womb Healing Massage Oil comes with the link for the Fertility Womb Massage tutorial so that you can perform your own womb healing massage at own. Best done at least weekly, but not while you are actively bleeding.
For details instructions and tutorials on how to use your bundle, Click Here.
Detox Tea 5 oz 

Fertile Mama Tea 5oz 

B*tch's Brew Tea 5 oz 

Fertile Mama Soak 5 oz 

Womb Healing Massage Oil 2 oz 

Tea Infuser 

Fertility Ear Seeds and Guide 

Womb Massage Video Link
HOW TO PREPARE YOUR TEA

Add 1 Tbsp. herbal blend to a tea infuser or French press.
Pour boiling water over the herbs and infuse for 5-15 minutes. Herbs may steep longer than 15 minutes for a stronger infusion.
Remove infuser or strain herbs and enjoy your tea warm, at least 2 cups per day.
You may add a bit of honey or sweetener as desired.
Shipping & ❤️.
✨ When will my order ship?
Once an order is placed we typically ship within 1 business day. The delivery time is typically 2-3 business days, but can be longer depending on location and circumstances.

❤️ Truth, Love, Trust & Support 'Baby Dust' Promise...
"This is my life's work and I promise to always love, honor and support you on your journey towards having a beautiful healthy baby."

-Ariele Myers 🌕
Licensed Acupuncturist, Board Certified Herbalist, and Fertility Specialist.
Ingredients
ORGANIC INGREDIENTS

Detox Tea:
Milk Thistle, Red Clover Flowers, Peppermint, Dandelion, Lemon Balm, Nettle Leaf, Yellow Dock, Dang Gui, Honey Crystals, Dried Blueberries

Fertile Mama Tea:
Raspberry Leaf, Nettle Leaf, Red Clover Flowers, Peppermint, Lemon Balm, Lady's Mantle, Black Cohosh, Dang Gui, Passion Flower, Ginger, Dried Pomegranate, Goji Berries

B*tch's Brew Tea:
Orange Peel, Ginger, Raspberry Leaf, Nettle Leaf, Lemon Balm, Milk Thistle, Lady's Mantle, Honey Crystals, Red Clover Flowers, Skullcap, Yellow Dock, Borage Leaf, Passion Flower, Yarrow Flower, Dang Gui, Black Cohosh, Wild Yam Root, Chaste Tree Berry

Fertile Mama Soak:
Epsom Salt, pink Himalayan Salt, Lavender Flowers, Motherwort, Mugwort, Lavender Essential Oil

Womb Healing Massage Oil:
Organic Safflower Oil, Organic essential oils of sweet marjoram, cypress, lavender, clary sage, ylang ylang, geranium, chamomile
Customer Reviews
Write a Review
Ask a Question
05/15/2022
Cali

United States
Finally!!!
I was trying to conceive for over a year and decided to try the teas in February 2022. Fast forward to May 2022 and I finally got my BFP! I truly believe the teas helped. I felt my body changing each month I drank the teas. Praying and hoping for a sticky healthy baby.
05/10/2022
Angie

United States
Success in 2 cycles!
I had two first trimester losses in 2020, around 8 weeks and 6 weeks. I did a cleanse in January 2021 to reset my body, and tried to conceive all of 2021 with no luck. I turned 44 in Dec 2021, and started the fertile wellness bundle that month. I did one full cycle with the teas, womb massage, bath soaks, ear seeds. She recommends the massage after ovulation if you think you didn't conceive, says it's very healing, but not if you tried to conceive. After my second ovulation I stopped the massage. I got pregnant that cycle. I had ordered the blissful mama tea just in case, so I drank that from my positive, twice a day, for at least the first trimester; currently 19 weeks along.
04/21/2022
Sabrina F.

United States
I'm 44 and thought pregnancy was not an option anymore..
I'm soooooo excited. After suffering from kidney disease, fibroids and ovarian cyst.....lm happy to say...I'm pregnant!!!!! I followed the fertile bundle directions given through email, purchased moxa stick and ear seeds....I got my first positive ovulation test results and baby danced....and now positive pregnancy test!!!! Thank you wisdom of the womb...I'm 44 and thought pregnancy was not an option anymore..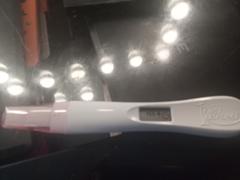 04/18/2022
Lisa

United States
I cannot thank you enough.
Good morning just wanted to share the amazing news with you , after taking the tea for over a month I got my first positive pregnancy test after ttc for over two years , I pray god blesses abundantly because u have helped me filled an empty space in my heart. my obgyn advice me to go to the ER & everything was perfectly great , I cannot thank you enough , these past week has felt like a dream , I have recommended your teas to my friend all the way in Guyana who have been trying for 15 years praying she receives the same great news again , I cannot thank you enough.
04/02/2022
Sabrina

United States
girrrlllllla....baby magic!!!!
I'm 44 and after following the fertile bundle as directed I'm soooooo excited to say I used it for a month straight..last month and I'm currently almost 5 weeks pregnant.!!! I'm so elated....I had fibroids, cysts and I'm also a kidney transplant recipient....which means I had 4 years of no menstrual...then 2 years of medication that wasn't good with conceiving... my doctor once tried to get me to have a hysterectomy!!!! I had a cyst so big on 1 of my overies it was so scary....I started using their teas and girrrlllllla....baby magic!!!! Follow guide as directed.Once I used wisdom of the womb fertile bundle and used as directed ( they give you a guide) my dreams came true....it's very possible Hun....hang in there...
03/30/2022
Dapoma R.

United States
Today I found out that I am pregnant
Thank you, I only purchased this tea for about 4 weeks now and drank it less than 2 weeks today I found out that I am pregnant I am referring this tea to friends who are struggling with conception, I barely made it thru a whole bag of detox tea and used a little of fertile mama I also took a couple of baths with the soak and used some oil and I am pregnant.
03/24/2022
JayBeen

United States
Excited!!
I ordered this bundle Feb 26, 2022 and today is Mar 24, 2022. When I received I started drinking the detox tea (for about 10 days) Started feeling what I thought was ovulation pain around March 9, 2022, so I started the fertile mama tea and on Mar 23, 2022. I got a very faint positive line on a first response test. Will wait another few days to test. Hopefully there are teas to support pregnancy. I love the teas and the flavors.
03/18/2022
Rayyanni

United States
02/26/2022
JayBeen

United States
Wish me luck
Completed the survey and purchased this bundle as recommended in the results. Excited for its arrival to get started! Gave it five stars because I'm starting off hopeful after reading all of the reviews of success. If this work this will be our rainbow baby.
02/09/2022
Monica C.

United States
Tasty Tea
So far this is great. Not sure if it will help me since our issue is male factor fertility. However, it doesn't hurt to prepare my body in case a miracle happens.