Mermaid Bath
$15.00
$12.00
You save:

$3.00 USD

(20.0%)
Mermaid Bath
$15.00
$12.00
You save:

$3.00 USD

(20.0%)
Product Description
Info

Shipping & ❤️.

Ingredients
Description
Luxuriate in this detoxifying and relaxing seaweed bath.  A 20-minute soak in this magnesium-rich bath will relax your muscles and draw impurities from your cells. Seaweed has been proven to relieve skin conditions (psoriasis, eczema, acne etc) & is beneficial in the treatment of muscle aches and joint stiffness. Both seaweed and salts are excellent for improving circulation, which benefits the menstrual cycle, can reduce pain associated with cramping and endometriosis.
This luxurious bath soak is blended by hand and contains therapeutic salts, essential oils and herbs which relax the muscles, invigorate the blood, nourish and heal the skin and draw impurities from the cells.
Use 1/8-1/4 cup per bath. Add directly to warm bath water or use in sachet added to bath.
All soaks include a small vial of essential oil blend within the soak. Please be sure to remove the oil vial before dumping soak into the tub. Add a few drops of oil to each back. 
Can use the entire cycle, or especially in the few days before your period is expected. 
Your bath soak package should last for about 3 baths, depending on how much you use. Soak at least once a week, but even every day is great.
It's ideal to soak for at least 15 minutes, ideally while listening to relaxing music or a guided meditation. You can even perform the womb massage while you soak. Add included oil directly to the water (oil vial is nestled inside of salts).
Shipping & ❤️.
✨ When will my order ship?
Once an order is placed we typically ship within 1 business day. The delivery time is typically 2-3 business days, but can be longer depending on location and circumstances.

❤️ Truth, Love, Trust & Support 'Baby Dust' Promise...
"This is my life's work and I promise to always love, honor and support you on your journey towards having a beautiful healthy baby."

-Ariele Myers 🌕
Licensed Acupuncturist, Board Certified Herbalist, and Fertility Specialist.
Ingredients
Organic Ingredients:
Epsom Salt, pink Himalayan Salt, Bladderwrack, Dulse, Kelp, Laminaria, Lavender Flowers, Peppermint, Essential Oils of Peppermint, Lavender, Marjoram, Rosemary, Chamomile, Basil & Eucalyptus
Customer Reviews
Write a Review
Ask a Question
04/18/2022
Emma

United States
I'm pregnant!
Hi, I'm pregnant! Thank you all. 2 months of drinking the tea and I got a surprise. Praying for a healthy baby and pregnancy. Thanks Ariel :-)
04/03/2022
Emma L.

United States
Bath and tea
I used it once but the tea for 2 months and I'm pregnant!
11/16/2021
Felicia P.

United States
I got my rainbow baby after so many miscarriages.
He's here‼️ All the praying, crying, doctors appointments and the teas were worth it‼️I got my rainbow baby after so many miscarriages. I'm so in love with him 23 hours of labor and a failed attempt of an epidural and the final piece to my heart arrived 11/5/21 4lbs and 4ozs and he is perfect Thank you God labor was intense but worth every contraction‼️ Wisdom of the womb teas & Ariel thank you for making such wonderful teas to help assist women and men become fertile again I'm very Grateful ❤️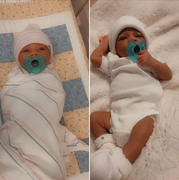 03/08/2020
ttcagain_livinglifeafterloss
Pregnancy
Good afternoon!! I'm so excited, I'm praying this is my sticky baby!! I used it all...lol I've been drinking the detox, fertile mama/moon and womb warming tea!! I also used the warm womb oil, castor oil, and I did the mermaid soak for my feet!!