Morning Rooster Tea: Herbal Blend for Male Reproductive Health
$35.00
$30.00
You save:

$5.00 USD

(14.29%)
Morning Rooster Tea: Herbal Blend for Male Reproductive Health
$35.00
$30.00
You save:

$5.00 USD

(14.29%)
Product Description
Info

Shipping & ❤️.

Ingredients
Description
Morning Rooster Herbal Tea Blend is a mineral-rich herbal blend that not only helps increase male vitality and stamina but can also help to improve sperm health and promote male fertility.
This potent herbal blend benefits men's general health in addition to reproductive health.
This product does contain a small amount of caffeine in the form of green tea. 
HOW TO PREPARE YOUR TEA

Add 1 Tbsp. herbal blend to a tea infuser or French press.
Pour boiling water over the herbs and infuse for 5-15 minutes. Herbs may steep longer than 15 minutes for a stronger infusion.
Remove infuser or strain herbs and enjoy your tea warm, at least 2 cups per day.
You may add a bit of honey or sweetener as desired.
5 oz. Loose Leaf contains approximately 20 servings
Shipping & ❤️.
✨ When will my order ship?
Once an order is placed we typically ship within 1 business day. The delivery time is typically 2-3 business days, but can be longer depending on location and circumstances.

❤️ Truth, Love, Trust & Support 'Baby Dust' Promise...
"This is my life's work and I promise to always love, honor and support you on your journey towards having a beautiful healthy baby."

-Ariele Myers 🌕
Licensed Acupuncturist, Board Certified Herbalist, and Fertility Specialist.
Ingredients
Organic Ingredients:
Horny Goat Weed, Milk Thistle, Scullcap, Lemon Balm, Gingko Leaf, Orange Peel Granules, Tribulus Fruit, Nettle Leaf, Honey Crystals, Passion Flower, Galangal Root, Saw Palmetto, Rhodiola, Green Tea, Ashwaganda Leaf, Cinnamon, Chinese Red Ginseng
Customer Reviews
Write a Review
Ask a Question
05/24/2022
Shonda

United States
This stuff really does work!
Just got my BFP yesterday confirmed with a blood test today. Only drank fertile mama and fertile moon during ovulation one cycle. Omg im excited this stuff really does work! My husband drank the morning rooster.
05/16/2022
M

United States
blessed us with this angel due in end of May.
After 7 years of trying everything and almost loosing all hope, we did the Detox, Fértil Mama for me and morning Rooster for him. Withing two months I was pregnant and lost it, but we kept on drinking the teas and God came through two months later and blessed us with this angel due in end of May. I'm 36 and never pregnant before, but suffered from PCOS. THANK YOU SOOOOOO MUCH FOR ALL YOU DO! After 7years of trying everything the doctors gave us, my weight loss surgery to regulate me and pretty much giving up on trying; we decided to leave all of that medicine ish and give your teas a try. I bought the detox, the rooster tea for me and fértil mama for me. We both did the detox back in March 2021 and then our teas after that. He was consistent with his, but I wasn't nevertheless we started trying again beginning of June and got pregnant be September.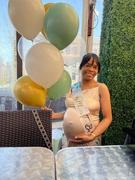 05/10/2022
Briar

United States
Everything worked like a charm
My husband and I have been trying since November with zero luck. Him have I have been drinking Morning Rooster, Detox & Fertile Mama tea religiously for about a month and a half. I am now 5 1/2 weeks pregnant. I am so thankful for this tea and this company for being able to make our dreams come true.
04/06/2022
HONORINE E.

United States
Morning Rooster
The morning Rooster tea is the best tea for men
My beautiful baby thanks to your teas.
My beautiful baby thanks to your teas. He arrived 2/27/22 I'm so grateful for the journey with the teas and my pregnancy. Thank 1000x for everything
03/03/2022
Megan M.

United States
Tastes good to my husband!
I'm really glad my husband thinks it tastes good otherwise he wouldn't be able to do it lol. We are still waiting for our rainbow miracle and waiting to see if things have changed for the better on his end, but we enjoy drinking these together!
01/03/2022
Ravneet

United States
OMG! I just found out I am pregnant!!!
OMG! I just found out I am pregnant!!! I've used your teas for a month only. We have been trying for year and half with one miscarriage last year. I just ordered Blissful Mama tea. I hope this baby sticks, I am so excited and nervous!!!! Praying so much!!!!! Thank you so much for your products!!!!! You are amazing at what you do!!!! <3
12/17/2021
Onelis

United States
10 WEEKS PREGNANT
Hello I wanted to thank you for your products. I've been trying to conceive for over 5 years now and since using your products I am NOW 10 WEEKS PREGNANT thank you thank you thank You and may God continue blessing you to continue blessing others ❤️❤️
10/27/2021
Randi

United States
Very early pregnancy.
Very early pregnancy, I peaked on Saturday October 16, and likely ovulated the 18. So, this is a vvfl. I'm so excited. I've been consistently drinking fertile mama tea and my husband has been drinking morning rooster tea. ❤️❤️❤️ I'm praying for a healthy baby.
10/27/2021
Demoye

United States