Womb Support Essential Oil Blends
Womb Support Essential Oil Blends
Product Description
Info

Shipping & ❤️.

Ingredients
Description
(For Fertility Womb Massage)
Our Womb Healing and Womb Warming Oils are formulated with uterine strengthening organic essential oils and blended with invigorating safflower oil. When used in conjunction with womb massage, these oils can encourage movement of both energetic and physical blockages, bring blood flow to the reproductive organs, help to invigorate the liver to encourage detoxification and balance hormone levels. You will receive a free womb massage training video, as well as additional fertility support techniques when you purchase this set of Womb Support Massage Oil.
 What you will receive:
2 oz Womb Healing Massage Oil

2 oz Womb Warming Massage Oil

4 oz Castor Oil

9 x 18 inch portion of 100% W

ool Flannel

Massage technique video
View Testimonials and Reviews from other Wisdom of the Womb Customers here.
Shipping & ❤️.
✨ When will my order ship?
Once an order is placed we typically ship within 1 business day. The delivery time is typically 2-3 business days, but can be longer depending on location and circumstances.

❤️ Truth, Love, Trust & Support 'Baby Dust' Promise...
"This is my life's work and I promise to always love, honor and support you on your journey towards having a beautiful healthy baby."

-Ariele Myers 🌕
Licensed Acupuncturist, Board Certified Herbalist, and Fertility Specialist.
Ingredients
ORGANIC INGREDIENTS

Castor Oil:
100% Pure Filtered Expeller Pressed Organic Castor Oil

Womb Warming Oil Blend:
Organic Safflower Oil, Organic essential oils of camphor, cinnamon, clove, myrrh, lavender, fennel, cajeput, ginger, pine needle, rosemary, anise, black pepper

Womb Healing Oil Blend:
Organic Safflower Oil, Organic essential oils of sweet marjoram, cypress, lavender, clary sage, ylang ylang, geranium, chamomile
Customer Reviews
01/05/2022
Sucheta

United States
I tested positive yesterday!
Hi Ariele and team, I tested positive yesterday with home pregnancy tests. I am getting a blood test done to check my hcg levels. I had used the detox tea for few days (4-5 days) and then I did the tea cycling for a month. Got tested positive in 1 month of using the teas, bath soaks, womb massage and moxa. Could you please guide me on the products that you recommend using including teas, bath soaks etc to maintain a strong and healthy pregnancy. Thank you for your help. Please let me know as soon as possible so that I can order the products in time. Thank you for your help and support, So grateful for your team and products. Take care S
11/09/2021
Aarti

United States
So grateful for these fantastic products and this amazing community!
Just wanted to share some positive news...got my first BFP this weekend! I've been drinking the fertile mama/fertile moon/womb warming teas (and detox the first month) for 5 months. I also used moxa during my yang phase and the womb massage oils. Started drinking blissful mama. So grateful for these fantastic products and this amazing community! Praying for a healthy pregnancy and lots and lots of baby dust to you all!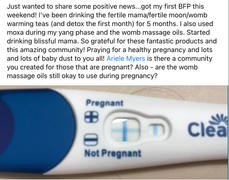 10/25/2021
Kimberdoll

United States
32 weeks going strong
Hello Wisdom of Womb it's been a while since I posted on here , but wanted to give you an update on the pregnancy! 32 weeks going strong and plan on trying to go for a all natural Un medicated birth. Don't know if I can do it but I'm gonna try! We are so happy and I want to thank you again for my journey of fertility with your teas and oils and just support. It' has not not easy getting here but I never gave up my faith on trying. And here I am! We are proud to announce Baby Waylons due date is Christmas Eve, ❄️ ⛄️ so please do a prayer for us. We are nervous and so in love but scared too! 34 and first child . Pregnancy has been beautiful! But .... I will see my anxiety and worry for numerous reasons arise at times , I remind myself to keep breathing and praying . Thank you